Mead & Other Drinks
Drinking mead is like sipping liquid sunlight. Mead is an ancient form of brewing; possibly older than ale, beer or grape wine. Mead has long been drunk as a spiritual act to celebrate the holidays and used to fill the wedding cup. Today mead is growing in popularity as people rediscover the pleasures of this honey wine brewed from the nectars of millions of flowers.
Our flavors were created using the plants associated with the traditional seasonal Celtic holidays (select for details in box to right). In addition to flavorings, the plant materials provide all necessary acids, tannins and yeast nutrients.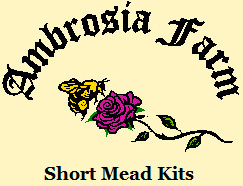 If you can boil water, you can make mead in 7 to 14 days...
with any of our kits, 2 pounds of honey & a gallon of spring water!
Includes Complete Instructions.
Contents make 4 bottles (750 mL.) of mead. Use kit within 6 months.
~ Just $10 each & Free Shipping ~
Methods of Payment
Visa & MC accepted by Paypal shopping cart checkout.
(Shipping only to 48 continental US states. Will ship within 2-3 business days.)
Wholesale Pricing Available for Orders over 35 Kits
Please email sherry@ambrosiafarm.com
In homage to Brigid's healing aspect, this mead uses many culinary herbs with traditional healing uses in a balanced blend to promote clarity and tranquility. Great refreshing herbal iced tea flavor."

Product #001


A light mead with the fresh flavor of sweet woodruff and floral notes...May Mead was created by combining elements of traditional herbal metheglins with the sweet woodruff traditional in May Wine.

Product #002


This phenomenal floral flavored elder-flower metheglin is like the best herbal iced tea crossed with a light white wine.

Product #003


Lemon Balm Mead has a fresh bright flavor, perfect to express the increasing sun and fresh green fertility of the Ostara season.

Product #004


A refresing mead with distinct peppermint flavor offset by citrus & spice notes. Delicious chilled.

Product #005


A classic spiced mead featuring ginger, cinnamon & nutmeg. Our most popular flavor & a good one to start with. Works over many different honeys, even stronger ones.

Product #006


Blueberries combined with three seeds: anise, caraway, fennel & a touch of cinnamon make this mead a special treat -- especially for Lughnasa, the celebration of First Fruits of the Harvest.

Product #007


Red Raspberries combined with three seeds: anise, caraway & fennel & the zing of ginger make this mead a special treat -- especially for Lughnasa, the celebration of First Fruits of the Harvest.

Product # 008


Elderberry Mead, unlike many other meads, yields a fruity red wine flavor. It is pleasant sweet but also excellent dry for those who prefer a dry red wine.

Product #009


Blackberry Mead is a real treat, based on Blackberries & Rosehips with Orange Peel, Lemon Verbena & Cardamon counternotes.

Product #010


Cherry Gal is a delicious Cherry Melomel spiked with Galengal. Served when sweet, the honey plays against the sour cherry flavor for a splendid drink.

Product #011


Why not brew your own hard Raspberry Lemonade? This is a modern flavor concept for our historic mead style.

Product #012

Kit Details
Our kits make it easy to brew short meads without any brewing apparatus or chemical additives.
Mead is honey wine similar to white wine, ranging from sweet to dry depending on when fermentation is stopped.
The brewer supplies two pounds of honey and a gallon bottle of spring water.
Short meads must be chilled until consumed.

Wildflower honey will produce flavors most like historic mead, but any honey works.
See our FAQ on Brewing for further details.